Friday, February 10th, 2012
---
4:42 am
- "streetlights tell lies"
Sunday, January 8th, 2012
---
8:28 pm
- Obligatory buzz.
Saturday, October 22nd, 2011
---
8:00 pm
- "And the floors shall be full of wheat—"
Saturday, August 27th, 2011
---
7:17 am
- "Bless you, Jack."
Friday, June 17th, 2011
---
9:14 am
- "You ain't even en mi clasa."
Wednesday, April 27th, 2011
---
10:13 am
- Testing, testing, one-two-three--
Author ISO fans w/ various ebook reading devices and software for light reading, screenshots, possible advice. An enjoyment of roses, swordplay, obscure references and dubious sexualities a plus. Enquiries via comment below or email at kipmanley(at)yahoo(dot)com.

This entry was originally posted at http://kiplet.dreamwidth.org/1795.html. Please comment there using OpenID.
Sunday, April 24th, 2011
---
12:36 pm
- Then and back again.
Sunday, April 17th, 2011
---
6:09 am
- "All we can do to comfort one another – "
Why yes, yes indeed, it is that time again: tomorrow morning no. 13, "Changel," begins. Get caught up as you might require.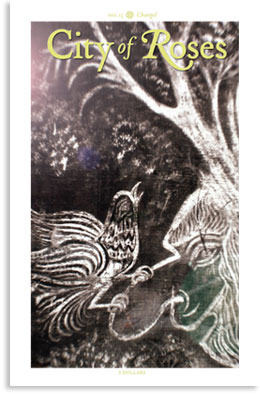 Also and as a reminder: we're at the Stumptown Comics Fest again today, so if you're in town come by, say hi. Look for the table full of roses.



This entry was originally posted at http://kiplet.dreamwidth.org/1520.html. Please comment there using OpenID.
Friday, February 25th, 2011
---
6:29 am
- "And there's no wanting worth the tears…"
Friday, January 22nd, 2010
---
11:47 am
- "Then stay with us a little space, our northern wars to learn--"
Saturday, December 5th, 2009
---
7:23 pm
- Goodness.
In 2009,
kiplet
resolves to...
Drink four glasses of
morecoffeeem
every day.
Spend more time with my rehnquists.
Connect with my inner
suzych
.
Get back in contact with some old whizzer whites.
Lose ten comics by March.
Find a new
decklin
.
Monday, October 26th, 2009
---
8:13 am
- Is this thing on?
Stepping in momentarily to point out that issue no. 8 of City of Roses, "Beauty," premieres online in exactly one week.

Which is just enough time to go get caught up.



Monday, August 3rd, 2009
---
6:01 am
- The beauty in the beast; the sunset in the east.
A brief announcement in service of no interests but my own, perhaps: City of Roses No. 7, "Gin-soaked," has begun. It'll appear Mondays, Wednesdays, and Fridays from now until the 14th.
Tuesday, July 7th, 2009
---
9:07 pm
- This week on—
My LiveJournal Sitcom
kiplet at the library (ABC, 1:00): kiplet (Kurt Russell) unknowingly gets high before a meeting with ellen_kushner (Sarah Polley). That same day, sararyan (Jack Benny) gets mad at quirkybird (Judy Garland) and decides to join the Peace Corps. Afterwards, vinnie_tesla (Jayne Mansfield) trades Klondike bars with coffeeem (Ed Asner). The week after, pineappleinc (Peter MacNicol) makes lots of money playing guitar on the street and makes erikamoen (Lon Chaney) jealous. Upstairs, b_zedan (George Takei) misinterprets an email from alg (Jeff Goldblum) and tries to get into a homeless shelter for free. Insanity ensues.
What's Your LiveJournal Sitcom? (by rfreebern)
Sunday, May 31st, 2009
---
8:21 am
- A momentary outburst of cross-platform self-promotion.
Just wanted to point out that if you were a member of the City of Roses Facebook group, it'd be easier to find certain special surprises and treats, is all.
Saturday, November 1st, 2008
---
7:38 am
- Taran Jack Manley.
Friday, October 31st, 2008
---
6:43 pm
- Photos.
11:21 am
Oh, hey, did I mention we're having a baby? Like, right now? —I mean, Jenn is, anyway. I'm helping as I can. (Twitters for those who tweet: herself; myself.)
10:58 am
I don't normally do these, but this is the shit that really gets my goat.
Copy this sentence into your LiveJournal if you're in a non-same-sex marriage, and you don't want it "protected" by the bigots who think that gay marriage hurts it somehow.
Wednesday, September 17th, 2008
---
11:11 pm
- Photomeme!
Take a picture of yourself right now.
Don't change your clothes.
Don't fix your hair
Just take a picture.
Post that picture with no editing. (Except maybe to get the image size down to something reasonable. Don't go posting an eight megapixel image.)
Include these instructions.


(—via
pnh)